Posts for tag: tooth decay
By Jennifer Robb, D.M.D.
November 09, 2021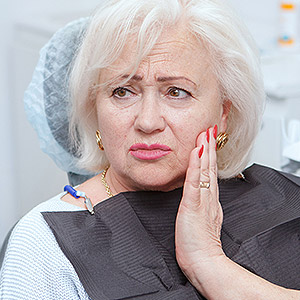 Although there are several potential problems people could encounter involving their teeth, gums or mouth, most fall into three basic categories. That's the finding of a recent survey conducted by the American Dental Association of more than 15,000 U.S. adults.
These categories are a triad of symptoms, each of which could arise from a variety of causes. If you're encountering any one of these, you should see your dentist as soon as possible.
Tooth pain. A toothache—or any form of pain from the mouth—could be sign of a number of possible issues. It could mean you have a decayed tooth, especially if the pain is sharp and localized. It could also indicate a gum abscess (accompanied by red and puffy gums), a sinus or ear infection, or inflammation of the jaw joints. The intensity, duration and location of the pain are all clues to its actual cause and what treatments it might require.
Biting difficulties. Does it hurt when you bite down? Among other things, you could have a loose tooth or one that's deeply decayed. The former could be the sign of advanced gum disease, which itself must be treated and the tooth stabilized (splinted) to other teeth. If the problem is advanced decay, you may need a root canal to remove diseased tissue from within the interior of the tooth, which is then filled and crowned to prevent re-infection.
Dry mouth. We're not talking about that "cotton mouth" feeling we all get now and then. This is a chronic condition known as xerostomia in which the mouth feels dry all the time. Xerostomia has several causes including smoking or treatments for cancer or other serious diseases. It might also be a medication you're taking, which has reduced your mouth's saliva production. Because dry mouth could lead to dental disease, you should take steps to relieve it.
Even if you're not having symptoms like these, there may still be something going on in your mouth that needs attention. That's why you should see your dentist on a regular basis, besides when you notice a problem, to keep your oral health in tip-top shape.
If you would like more information on potential teeth and gum problems, please contact us or schedule an appointment for a consultation.
By Jennifer Robb, D.M.D.
July 22, 2021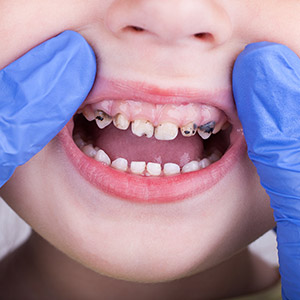 The few teeth your one or two year old has will eventually fall out in a few years—so, why be concerned about tooth decay this early? Actually, you should: Fighting tooth decay should always be a priority, even at this early age.
Even though primary teeth are short-lived, they make a huge impact on future dental health. These early teeth help guide the eruption of permanent teeth—if lost prematurely to decay, the later teeth may come in misaligned and create a poor bite. Preserving them could help you avoid later orthodontic treatment.
Fortunately, you can help prevent decay in your child's primary teeth. Here's how.
Practice oral hygiene even before teeth. You should begin daily oral hygiene, the principal defense against tooth decay, even before their first teeth emerge. You can reduce harmful bacteria in their mouths by wiping their gums with a clean cloth after nursing. When teeth appear, begin brushing with just a smear of toothpaste.
Limit sugar consumption. Because decay-causing bacteria thrive on sugar, reduce your child's intake in snacks and beverages. For example, don't put them down for bed with a bottle filled with a sugary liquid like juice, sweetened drinks or even formula or breast milk. If you do give them a night-time bottle, fill it only with water.
Avoid bacterial transfer. Your child's immature immune system can't handle the same level of bacteria as in your mouth. So, reduce the chances of bacterial transfer that may cause tooth decay by avoiding kissing on the mouth or sharing eating or drinking utensils with your infant.
Begin dental visits early. Even though they may have few teeth by their first birthday, it's still a good time to begin your child's regular dental visits. Your dentist may be able to diagnose decay early (and treat for maximum effectiveness), as well as provide sealants, topical fluoride and other measures for preventing decay.
Tooth decay at an early age could impact your child's future dental health. Taking steps now to reduce it could help ensure they have healthy teeth and gums later in life.
If you would like more information on dental care for children, please contact us or schedule an appointment for a consultation. You can also learn more about this topic by reading the Dear Doctor magazine article "Do Babies Get Tooth Decay?"
By Jennifer Robb, D.M.D.
July 12, 2021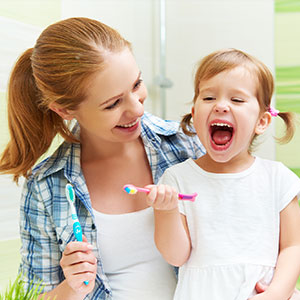 So, when should you begin taking measures to prevent tooth decay in your child's teeth? When their teeth first begin to show? When all of their primary (baby) teeth are in? Or, wait until their permanent teeth begin erupting?
Actually, tooth decay can be a problem as early as two months of age, before a child's first tooth even comes in. In essence, then, dental disease prevention should be on your radar soon after your child is born. Here's what you can do to prevent the damage of tooth decay to their teeth now and its impact on their dental health in the future.
Start oral hygiene during nursing. Brushing and flossing are lifetime habits that reduce the risk of dental disease. When your children are young, you'll have to perform these tasks for them, ultimately training them to perform them on their own. But even earlier, before their first tooth, you'll want to clean their gums after feedings with a wet cloth to reduce disease-causing bacteria.
Initiate dental visits by age 1. It's appropriate on or before their first birthday, when most children already have a few primary teeth, to begin regular dental visits for cleanings and checkups. Seeing the dentist every six months at an early age will help your child stay well ahead of tooth decay. And starting visits early increases the likelihood it will become a regular part of their lives into adulthood.
Protect against decay. You and your dentist are partners in protecting your child from dental disease. Besides daily oral hygiene, you can also help by providing a dental-friendly diet, and especially restricting sugary snacks and avoiding sweetened liquids in bedtime bottles (including breast milk or formula). In addition to routine care, your dentist can also provide other measures to fight decay, like sealants or topical fluoride.
It's also important for you to set an example for your child to follow. Children soak up what's important to their parents—in this case, watching you take care of your teeth and seeing the dentist as a friend and ally against dental disease. That's your end goal: preventing dental disease now, and instilling the value of dental care that will last your child a lifetime.
If you would like more information on helping your child avoid tooth decay, please contact us or schedule an appointment for a consultation. You can also learn more about this topic by reading the Dear Doctor magazine article "Taking the Stress Out of Dentistry for Kids."