All professionals at Jennifer Robb, D.M.D. maintain the highest levels of accreditation and pursue ongoing education to stay abreast of the latest trends in the medical field. Read on to learn more about our staff's experience and training.
Dr. Jennifer Robb
Family Dentist in Lorain, OH
Jennifer Robb, D.M.D.
Hi, I'm Dr. Jen!
You're going to love my easy water-laser dentistry.
Don't let needles and metal drills in your mouth anymore.
There's:
• No pain
• No Novacaine
• No needles
• No drilling
Pop your name in the form or just give us a call.
I'm saving your seat…for you!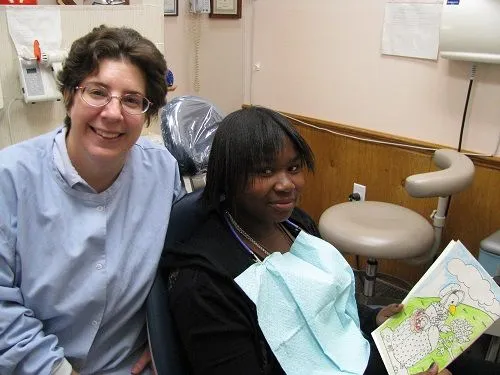 Dr. Robb has lived in Ohio since moving here as a child in 1970. She grew up in Mentor-on-the-Lake and graduated from Mentor High School . Knowing that she wanted to be a dentist, she pursued the Siena-Georgetown Dental Program, achieving her bachelor of science in just three years at Siena College in Loudonville, NY.
After Siena, she got her DMD at the University of Pittsburgh School of Dental Medicine . She was licensed in PA in 1992, then Ohio in 1993.
Before becoming a dentist in Lorain, she was an Associate for two different dentists. Dr. Fred Miller in Willowick, OH and Dr. Raymond Vecchio in Elyria, OH.
Cleveland Dentist Dr. Jennifer Robb moved to Lorain in 1994 and joined the Lorain County Dental Society .
In 1999, she bought the dental practice of Dr. Thomas Timko and has grown it into the practice it is today. In 2017, the practice of late Dr. Donald Karpinski merged with Dr. Robb's practice.
Volunteering
Dr. Robb volunteered at the Lorain County Community College Dental Hygiene Clinic (as the supervising dentist). She also has worked with Give Kids a Smile and has given presentations in schools, daycare facilities, nursing homes and other locations.
Dr. Robb is also very active in her church, The Gathering Community Church. At her past church, Hope Christian Church, she served on the AV team, in the women's ministry, and in the singles group.
Hobbies
When she's not working on other people's smiles, she enjoys scrapbooking, writing, photography and spoiling her nephews and niece