Posts for tag: pediatric dentistry
By Jennifer Robb, D.M.D.
February 09, 2019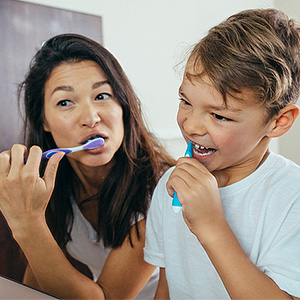 Your child's oral development generates considerable changes during their "growing up" years. There are a number of things you can do to help support their development—but also things you shouldn't.
Here are 4 things not to do if you want your child to develop healthy teeth and gums.
Neglect daily oral hygiene. To set the best long-term course for optimum oral health, begin cleaning the inside of your child's mouth even before they have teeth. Simply use a clean wet washcloth to wipe their gums after feeding to reduce bacterial growth. Once you begin seeing teeth, start brushing them every day with just a smear of toothpaste; at about age 2 you can increase that to a pea-sized amount. And don't forget to teach them when they're ready to brush and floss on their own!
Allow unlimited sugar consumption. Besides the effect it has on overall health, sugar is also a prime food source for disease-causing oral bacteria. You can reduce the sugar available for bacterial growth by avoiding sugary snacks and limiting sweet foods to meal times. Less sugar means less bacterial growth—and a lower risk of tooth decay for your child.
Put them to bed with a sugary liquid-filled bottle.  Although a bedtime bottle may help calm your baby to sleep, it could also increase their risk of tooth decay. Allowing them to sip on sugar-filled liquids like juice, milk, formula or even breast milk encourages bacterial growth. Bacteria in turn produce acid, which can dissolve the minerals in enamel and open the door to tooth decay. Sipping through the night also deprives saliva of adequate time to neutralize acid.
Wait on dental visits until they're older. Dental and pediatric associations all recommend first taking your child to the dentist sooner rather than later—by their first birthday. Starting dental visits early will help you stay ahead of any developing tooth decay or other oral problems. And just as important, your child will have an easier time "warming up" to the dental office environment at a younger age than if you wait. Dental visit anxiety, on the other hand, could continue into adulthood and interfere with regular dental care.
If you would like more information on the best dental care practices for your child, please contact us or schedule an appointment for a consultation. You can also learn more about this topic by reading the Dear Doctor magazine article "Top 10 Oral Health Tips for Children."
By Jennifer Robb, D.M.D.
October 01, 2018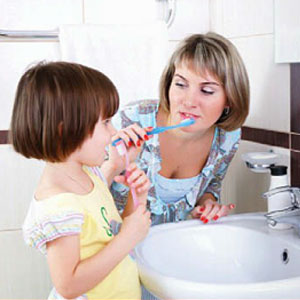 Proactive dental care is an essential part of childhood growth. But that care can be much harder for children with chronic health issues than for healthier children.
"Chronic condition" is an umbrella term for any permanent and ongoing health issue. Asthma, Down's syndrome, cystic fibrosis, congenital heart defects and many others fall under this umbrella, with varying symptoms and degrees of intensity. But they all have one common characteristic — a long-term effect on all aspects of a child's health.
That includes the health of a child's teeth and gums. Here, then, are a few areas where a chronic health condition could impact dental care and treatment.
Ineffective oral hygiene. Some chronic conditions like autism or hyperactivity disorder (ADHD) that affect behavior or cognitive skills can decrease a child's ability or willingness to brush or floss; some conditions may also limit their physical ability to perform these tasks. Parents and caregivers may need to seek out tailored training for their child's needs, or assist them on a regular basis.
Developmental defects. Children with chronic conditions are also more likely to have other developmental problems. For example, a child with Down, Treacher-Collins or Turner syndromes may be more likely to develop a birth defect called enamel hypoplasia in which not enough tooth enamel develops. Children with this defect must be monitored more closely and frequently for tooth decay.
Special diets and medications. A child with a chronic condition may need to eat different foods at different times as part of their treatment. But different dietary patterns like nutritional shakes or more frequent feedings to boost caloric intake can increase risk for tooth decay. Likewise, children on certain medications may develop lower saliva flow, leading to higher chance of disease. You'll need to be more alert to the signs of tooth decay if your child is on such a diet or on certain medications, and they may need to see the dentist more often.
While many chronic conditions raise the risk of dental disease, that outcome isn't inevitable. Working with your dentist and remaining vigilant with good hygiene practices, your special needs child can develop and maintain healthy teeth and gums.
If you would like more information on dental care for children with chronic health conditions, please contact us or schedule an appointment for a consultation. You can also learn more about this topic by reading the Dear Doctor magazine article "Managing Tooth Decay in Children with Chronic Diseases."
By Jennifer Robb, D.M.D.
May 14, 2018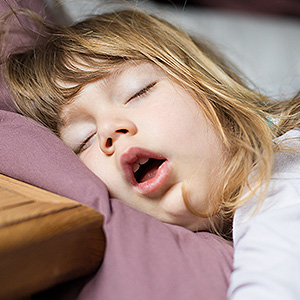 Many things can affect your child's future dental health: oral hygiene, diet, or habits like thumb sucking or teeth grinding. But there's one you might not have considered: how they breathe.
Specifically, we mean whether they breathe primarily through their mouth rather than through their nose. The latter could have an adverse impact on both oral and general health. If you've noticed your child snoring, their mouth falling open while awake and at rest, fatigue or irritability you should seek definite diagnosis and treatment.
Chronic mouth breathing can cause dry mouth, which in turn increases the risk of dental disease. It deprives the body of air filtration (which occurs with nose breathing) that reduces possible allergens. There's also a reduction in nitric oxide production, stimulated by nose breathing, which benefits overall health.
Mouth breathing could also hurt your child's jaw structure development. When breathing through the nose, a child's tongue rests on the palate (roof of the mouth). This allows it to become a mold for the palate and upper jaw to form around. Conversely with mouth breathers the tongue rests behind the bottom teeth, which deprives the developing upper jaw of its tongue mold.
The general reason why a person breathes through the mouth is because breathing through the nose is uncomfortable or difficult. This difficulty, though, could arise for a number of reasons: allergy problems, for example, or enlarged tonsils or adenoids pressing against the nasal cavity and interfering with breathing. Abnormal tissue growth could also obstruct the tongue or lip during breathing.
Treatment for mouth breathing will depend on its particular cause. For example, problems with tonsils and adenoids and sinuses are often treated by an Ear, Nose and Throat (ENT) specialist. Cases where the mandible (upper jaw and palate) has developed too narrowly due to mouth breathing may require an orthodontist to apply a palatal expander, which gradually widens the jaw. The latter treatment could also influence the airway size, further making it easier to breathe through the nose.
The best time for many of these treatments is early in a child's growth development. So to avoid long-term issues with facial structure and overall dental health, you should see your dentist as soon as possible if you suspect mouth breathing.
If you would like more information on issues related to your child's dental development, please contact us or schedule an appointment for a consultation.