Posts for tag: dentures
By Jennifer Robb, D.M.D.
July 24, 2020
Even in the 21st Century, losing most or all of your teeth is still an unfortunate possibility. Many in this circumstance turn to dentures, as their great-grandparents did, to restore their teeth. But today's dentures are much different from those of past generations—and dental implants are a big reason why.
The basic denture is made of a gum-colored, acrylic base with artificial teeth attached. The base is precisely made to fit snugly and comfortably on the patient's individual gum and jaw structure, as the bony ridges of the gums provide the overall support for the denture.
Implants improve on this through two possible approaches. A removable denture can be fitted with a metal frame that firmly connects with implants embedded in the jaw. Alternatively, a denture can be permanently attached to implants with screws. Each way has its pros and cons, but both have two decided advantages over traditional dentures.
First, because implants rather than the gums provide their main support, implant-denture hybrids are often more secure and comfortable than traditional dentures. As a result, patients may enjoy greater confidence while eating or speaking wearing an implant-based denture.
They may also improve bone health rather than diminish it like standard dentures. This is because the forces generated when chewing and eating travel from the teeth to the jawbone and stimulate new bone cell growth to replace older cells. We lose this stimulation when we lose teeth, leading to slower bone cell replacement and eventually less overall bone volume.
Traditional dentures not only don't restore this stimulation, they can also accelerate bone loss as they rub against the bony ridges of the gums. Implants, on the other hand, can help slow or stop bone loss. The titanium in the imbedded post attracts bone cells, which then grow and adhere to the implant surface. Over time, this can increase the amount of bone attachment and help stymie any further loss.
An implant-supported denture is more expensive than a standard denture, but far less than replacing each individual tooth with an implant. If you want the affordability of dentures with the added benefits of implants, this option may be worth your consideration.
If you would like more information on implant-supported restorations, please contact us or schedule an appointment for a consultation. You can also learn more about this topic by reading the Dear Doctor magazine article "Overdentures & Fixed Dentures."
By Jennifer Robb, D.M.D.
January 26, 2020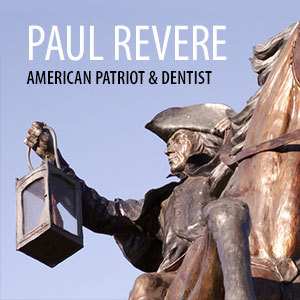 While celebrating all that a new year brings, take a moment to remember the New Year's Day birthday of a true American patriot: the legendary Paul Revere. Ironically, he became a legend some 80 years after his midnight trek to warn colonists of approaching British troops, thanks to Henry Wadsworth Longfellow's 1861 poem "Paul Revere's Ride." He was much better known to his fellow Bostonians as a prosperous silversmith, engraver—and "artificial teeth" maker.
That's right. Among his many business endeavors, Revere's résumé also included dental prosthetics, specifically custom dentures made of ivory. For the time, his work was state-of-the-art technology that far surpassed older tooth replacement methods.
But when we compare Revere's foray into the dental arts and today's restorations, his high quality 18th Century dentures were the proverbial "horse and buggy," while modern denture technology seems like "supersonic transport." Not only are today's dentures made of superior materials that are more "toothlike" in appearance, the means to create them using digital technology gives wearers a more secure and comfortable fit.
The modern denture—an appliance that replaces multiple or all lost teeth—is composed of a polymer base, usually acrylic that is colored to resemble gum tissue. Attached to this base are the prosthetic ("false") teeth that replace those lost along the jaw. These new teeth are usually made of a durable dental material like porcelain that looks and functions like real teeth.
The basic design of today's denture hasn't changed much in the last century. What has changed is our ability to create dentures that follow an individual jaw contours much more precisely. Using the latest digital technology, we're able to obtain highly accurate impressions of the mouth to guide the manufacturing process. Fit is critically important for how dentures feel and function in the mouth. If they are too loose, they become uncomfortable and limit which foods you can eat.
If that weren't enough, recent advancements with dental implants have taken dentures to an entirely new level, beyond anything imaginable in Revere's day. We're now able to create dentures that connect or are permanently affixed to implants set within the jaw, which makes them more stable and secure. An implant-supported denture also helps prevent bone loss, a weakness of traditional dentures, causing them to loosen over time.
As amazing as they are, we wouldn't have the modern version of dentures without craftsmen like Paul Revere who helped advance the cause of dental restoration. So, lift a glass of holiday cheer this season to this hero of the American Revolution—and of American dentistry.
If you would like more information about tooth replacement restorations, please contact us or schedule an appointment. To learn more, read the Dear Doctor magazine article "Removable Full Dentures."
By Jennifer Robb, D.M.D.
May 11, 2019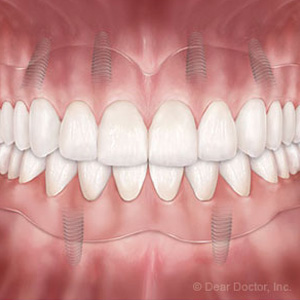 Even with modern prevention and treatment advances, losing teeth in later life is still a sad but common part of human experience. Just as generations have before, many today rely on dentures to regain their lost dental function and smile.
But although effective, dentures have their weaknesses. The most serious: they can't prevent jawbone deterioration, a common problem associated with tooth loss.
Bone health depends on chewing forces applied to the teeth to stimulate replacement growth for older bone cells. When teeth are gone, so is this stimulation. Dentures can't replicate the stimulus and may even accelerate bone loss because they can irritate the bone under the gums as they rest upon them for support.
But there's a recent advance in denture technology that may help slow or even stop potential bone loss. The advance incorporates implants with dentures to create two hybrid alternatives that may be more secure and healthier for the supporting bone.
The first is known as an overdenture, a removable appliance similar to a traditional denture. But instead of deriving its support from the gums alone, the overdenture attaches to three to four implants (or only two, if on the lower jaw) that have been permanently set into the jawbone. This not only increases stability, but the implants made of bone-friendly titanium attract and foster increased bone growth around them. This can help slow or even stop the cycle of bone loss with missing teeth.
The second type is a fixed denture. In this version, four to six implants are implanted around the jaw arch. The denture is then secured in place to these implants with screws. It's a little more secure than the overdenture, but it's also more expensive and requires good quality bone at the implant sites.
If you've already experienced significant bone loss you may first need bone grafting to build up the implant sites for these options, or choose traditional dentures instead. But if you're a good candidate for an implant-supported denture, you may find it provides better support and less risk of continuing bone loss than traditional dentures.
If you would like more information on implant-supported dental restorations, please contact us or schedule an appointment for a consultation. You can also learn more about this topic by reading the Dear Doctor magazine article "Overdentures & Fixed Dentures."